Associate Professor

Zbigniew Hnatejko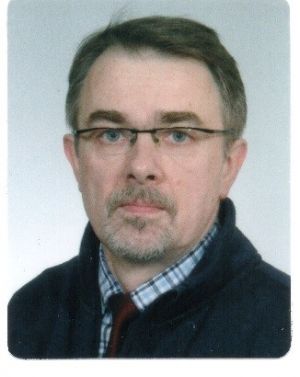 M.Sc. 1986
Ph.D. 1996
Habilitation 2013
member of the Polish Chemical Society,
member of the Association of Jędrzej Śniadecki, Karol Olszewski and Zygmunt Wróblewski,
member of the Faculty Electoral Commission.
coordination and supramolecular chemistry,
photophysical studies of systems in solutions, solids and entrapped in xerogel matrices,
spectroscopic and structural studies of transition metal ions and lanthanide(III) ions complexes with aminoacids, hydroxyacids, aminopolycarboxylic acids, amide derivatives of aromatic carboxylic acids, organic analogues of phosphoric acid, pyridine N-oxides and pyridinecarboxylic acids, polypyridines, silanothiolate ligands and Schiff bases,
coordination polymers and heterometallic complexes,
studies of interactions of uranyl ion with inorganic and organic ligands in solutions and in solids.
Thermodynamic and spectroscopic studies of the complexes formed in tartaric acid and lanthanide (III) ions binary systems, Zabiszak, M., Nowak, M., Hnatejko, Z., Grajewski, J., Ogawa, K., Kaczmarek, M.T., Jastrzab, R., Molecules, 25 (2020) 1121-1134,
Halogen bonded lamellar motifs in crystals of Schiff base ZnII–LnIII–ZnII coordination compounds – Synthesis, structure, Hirshfeld surface analysis and physicochemical properties, Miroslaw, B., Cristóvão, B., Hnatejko, Z., Polyhedron, 166 (2019) 83-90,
Synthesis, spectroscopic characterization and antifungal activity studies of five novel complexes with pyridine carboxamides, Kwiatek, D., Kubicki, M., Belter, J., Jastrząb, R., Wiśniewska, H., Lis, S., Hnatejko, Z., Polyhedron, 133 (2017) 187-194,
Structural, spectral and magnetic properties of Ni(II), Co(II) and Cd(II) compounds with imidazole derivatives and silanethiolate ligands, Kowalkowska, D., Dołȩga, A., Nedelko, N., Hnatejko, Z., Ponikiewski, Ł., Matracka, A., Ślawska-Waniewska, A., Strągowska, A., Słowy, K., Gazda, M., Pladzyk, A., CrystEngComm, 19 (2017) 3506-3518,
Full characterization and cytotoxic activity of new silver(i) and copper(i) helicates with quaterpyridine, Adamski, A., Fik, M.A., Kubicki, M., Hnatejko, Z., Gurda, D., Fedoruk-Wyszomirska, A., Wyszko, E., Kruszka, D., Dutkiewicz, Z., Patroniak, V.,New J. Chem., 40 (2016) 7943-7957,
Synthesis, spectroscopic and structural properties of uranyl complexes based on bipyridine N-oxide ligands, Hnatejko, Z., Lis, S., Starynowicz, P., Stryła, Z. Polyhedron, 30 (2011) 880-885,
Quaterpyridine ligands forming helical complexes of mono- and dinuclear (helicate) forms, Stefankiewicz, A.R., Wałȩsa, M., Jankowski, P., Ciesielski, A, Patroniak, V., Kubicki, M., Hnatejko, Z., Harrowfield, J.M., Lehn, J.-M., Eur. J. Inorg. Chem., 18 (2008) 2910-2920,
Formation and dissociation kinetics of Eu(III) complexes with H5do3ap and similar dota-like ligands, Taborsky, P., Svobodova, I., Lubal, P., Hnatejko, Z.,Lis, S., Hermann, P., Polyherdon, 26 (2007) 4119-4130,
Luminescence Properties of Materials with Eu(III) Complexes: the Role of Ligand, Co-ligand, Anion and Matrix, Kłonkowski, A.M., Lis, S., Pietraszkiewicz, M., Hnatejko, Z.,Czarnobaj, K., Elbanowski, M., Chem. Mat., 15 (2003) 656-663,
Energy transfer in solution of lanthanide complexes, Lis, S., Elbanowski, M., Mąkowska, B., Hnatejko, Z., J. Photochem. Photobiol. A: Chemistry, 150 (2002) 233-247.