Professor

Bronisław Marciniak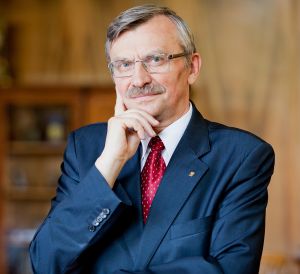 Kariera:
1973: Mgr
1979: Dr
1989: Dr hab.
1998: Prof.
Funkcje:
Prodziekan Wydziału Chemii UAM (1996-1999)
Prorektor UAM ds. nauki współpracy z zagranicą (1999-2005)
Rektor UAM (2008-2016)
Przewodniczący Konferencji Rektorów Uniwersytetów Polskich (2012-2016)
Honorowy Przewodniczacy Konferencji Rektorów Uniwersytetów Polskich (2016-obecnie)
Członek Rady Głównej Nauki i Szkolnictwa Wyższego oraz Przewodniczący Komisji Nauki (2018-2021)
Dyrektor Centrum Zaawansowanych Technologii UAM (2017-obecnie)
Kierownik Zakładu Fizyki Chemicznej, Wydział Chemii UAM (1995-2021)
Członek Polskiego Towarzystwa Chemicznego
Członek European Photochemistry Association
Fotochemia, fotofizyka i chemia radiacyjna ważnych biologicznie związków organicznych.
Fotoindukowane reakcje chemiczne związków organicznych zawierających atom siarki lub krzemu ważnych dla biologii i chemii materiałowej. Przeniesienie elektronu, atomu wodoru, fotoizomeryzacja.
The list of publications in available here.