Associate Professor

Anna K. Przybył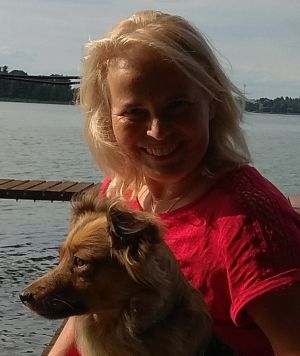 Secretary of the Regional Board of the Polish Chemical Society in Poznań (January 2004 – at present)
Member of the Scientific Council of the Chemical Sciences 2020-2024
Natural products chemistry.
modification of bioactive cinchona and quinolizidine (lupine) alkaloids.
spectroscopic analysis of new derivatives of quinolizidine alkaloids and amino acids.
synthesis and chiral resolution of quinolizidine alkaloids conjugates.
Complexing ability of the alkaloids.
synthesis, chiral resolution of enantiomers, and structural studies of morphan compounds.
A. K. Przybył, E. Maj, J. Wietrzyk, M. Kubicki: Spectroscopic, structural and anticancer activity studies of (-)-cytisine halogenated N- benzyl derivatives. J. Mol. Struct. 1176 (2019) 871-880;
E. Krystkowiak, A. K. Przybył, M. Bayda, J. Józkowiak, A. Maciejewski: Spectral and Photophysical Behavior of Cytisine in n‑Hexane. Experimental Evidence for the S1(n,π*)→S0 Fluorescence, J. Phys. Chem. A 121 (2017) 5597−5604.
A. K. Przybył, M. Kubicki, R. Jastrzab: Complexing ability of (−)-cytisine — synthesis, spectroscopy and crystal structures of the new copper and zinc complexes. J. Inorg. Biochem. 138 (2014) 47–55.
J. Vandenbussche, P. Bultinck, A. K. Przybył, W. A. Herrebout: Statistical validation of absolute configuration assignment in Vibrational Optical Activity. J. Chem. Theory Comput. 9 (2013) 5504-5512.
A. K. Przybył, M. Kubicki: Simple and highly efficient preparation and characterization of (-)-lupanine and (+)-sparteine. Tetrahedron 67 (2011) 7787-7793.
A. K. Przybył, M. Kubicki: A comparative study of dynamic NMR spectroscopy in analysis of selected N-alkyl-, N-acyl-, and halogenated cytisine derivatives. J. Mol. Struct. 985 (2011) 157-166.
A. K. Przybył, M. Kubicki: Synthesis of new 2-oxosparteine derivatives. Tetrahedron 65 (2009) 3454–3458.
A. K. Przybył, W. Prukała, D. Kikut-Ligaj: EI-MS study of selected N-amide and N-alkyl derivatives of cytisine. Rapid Commun. Mass Spectrom., (2007), 21, 1409-1413.
V. Galasso, A. K. Przybył, V. Christov, B. Kovac, F. Asaro, E. Zangrando: Theoretical and experimental studies on the molecular and electronic structures of cytisine and unsaturated keto-sparteines. Chemical Physics, (2006), 325, 365-377.
A. K. Przybył, J. Flippen-Anderson, A. E. Jacobson, K. C. Rice: Practical and high-yield syntheses of dihydromorphine from tetrahydrothebaine and efficient syntheses of bromomorphide. J. Organic Chemistry (2003), 68, 2010-2013.